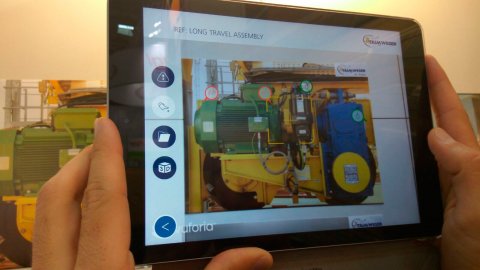 Industry 4.0
Our R&D staff always looks for new technology solutions bringing an effective and harmonic development of our systems.
Nowadays, remote monitoring and control, and integration, are a must when a company delivers technology solutions to its customers.
Thus, we have evolved gradually and equipped our systems with remote connections allowing to monitor and record our equipment status.
And this fulfilling the most demanding control and communication criteria, in such a way that our customers can integrate into any i4.0 system according to their specifications. Moreover, often harsh environment impedes or limits operations staff presence in the plants; case this happens, system parameters monitoring, display, and recording of parameters becomes a must, allowing to take actions and remotely control the systems.
This way, we can offer our customers an additional, and crucial, service of remote access from our facilities to PLC or SCADA, to supervise equipment status and to assist our customers in the prediction and advanced correction of potential failures affecting to the plants operations.
Waste treatment plants, oil refineries, nuclear power plants are showcases where we have a long track record. Here, the above mentioned remote access to the key parameters and alarms status is a must. And we go even further, tailoring to customer needs the remote assistance from our technical department, that analyzes the recorded and online data for the resolution of service events, and also for maintenance, thus reducing down times and improving facilities opex.
Summarizing, benefits of this evolution are as follows:
State-of-the-art technology boosts plants efficiency and improves global P&L.
Setup changes do not affect production time.
Customers can arrange a tailor-made service portfolio to each case requirements.
Decision making process is based on real-time information.
Exhaustive and continuous follow-up makes more efficient and productive the resources application.
This improvement in operation, maintenance and service allows our customers to explore new improvement opportunities in their plants.
Aimed to achieve above goals, our services portfolio in i4.0 is based on three pillars:
TW Management, focused on the management, operation, maintenance and service of the main components working at customer facilities.
TW Helpdesk support, for remote assistance service (using AR –Augmented Reality-) with the possibility of real-time interaction.
TW Virtual Reality, to know and discover your plant through immersive Virtual Reality (VR).
The last, but not the least, is that this VR/AR combination allows the optimization of operation, maintenance and service work plans, improves dramatically staff training through step-by-step immersion in simulated working environment;         this is especially relevant for machine operators, where simulation reduces the gaining / improving operator skills time.
Finally, these new apps allow a quick and effective immersive design review and validation along the engineering phase.
Drones aided technical inspection
Inspection works are key to well performance of customer plants for bulk materials handling, lifting equipment and waste treatment systems. Simple visual checks, structural or general inspections respecting continuous production (24/7) conditions, inspection on restricted or confined areas, railways, and so on. Current drones state-of-the-art minimizes exposure to risks of height working situation and quickens the overall inspection process, as it is not required to stop the equipment, and therefore inspection time and cost are reduced.
We offer the highly skilled TAIM WESER specialists support, being able to provide high-resolution video, thermal images and reports.