The project
Expansion of Le Creusot steel plant
Expansion of Le Creusot steel plant
The expansion project of Industeel Le Creusot steelworks plant, an ArcelorMittal subsidiary, is the result of a strategic agreement between ArcelorMittal and Areva to increase the output capacity of the plant in order to be able to supply special ingots for the nuclear industry.
In this expansion project, TAIM WESER was selected to supply three heavy-duty large-tonnage overhead cranes, one of 600/150 ton capacity equipped with two independent trolleys for the mould release and maintenance of forged ingots, and two casting cranes of 175/50 ton capacity with an unusual design due to space limits in the facilities where they are located.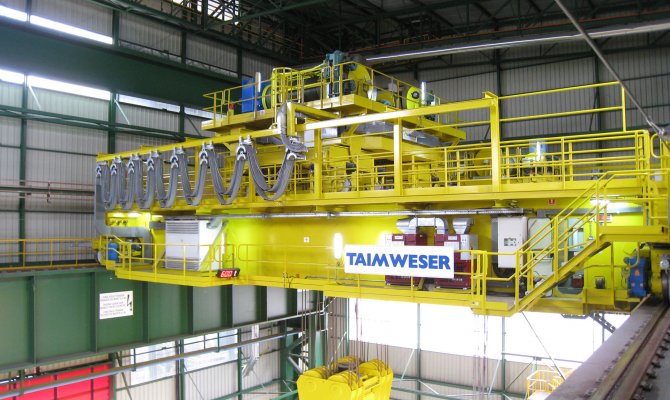 The Challenge Achieved
The cranes are highly sophisticated and designed to work at a high level of precision with large-tonnage loads in a heavy-duty aggressive environment, so they were supplied with the necessary protection and control equipment for the work area and procedures. Safety features include redundant mechanisms and protected electrical equipment.
The project figures
Lifting capacity
600 ton and 175 ton
The project gallery