The project
Novotroizk cement plant greenfield project
Novotroizk cement plant greenfield project
JUGPK Company's Novotroizk cement plant is one of the most advanced, high tech production plants in Russia, with quality and environmental safety that conform to the high European standards. The plant's capacity is 3.000 t/d.
The German company KHD Humboldt Wedag, a global leader in cement plant technology, equipment and services was appointed to furnish the equipment of the plant.
The scope of delivery, with regard to KHD products and services, extended from raw material storage and preparation, to clinker production, cement production and storage, cement loading, including packing services, all associated dust removal systems, as well as the automation and control station technology.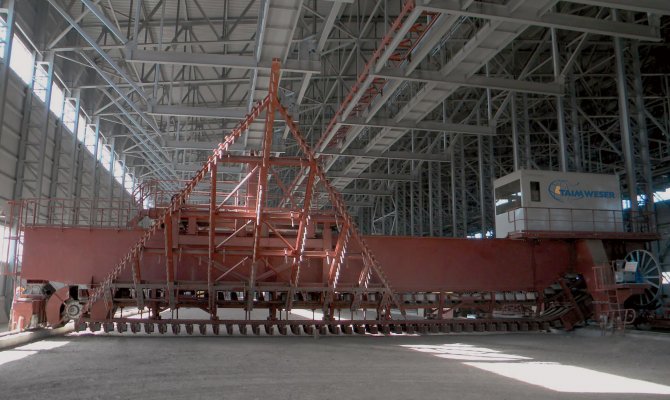 The Challenge Achieved
KHD awarded to TAIM WESER the supply of the equipment for the raw material storage, which included one overhead tripper and one bridge reclaimer for slag as well as one overhead tripper and one bridge reclaimer for limestone.
After this expansion, the production capacity of the plant was increased and TAIM WESER result as one of the reference partners for KHD Humboldt Wedag GmbH in the supply of cement industry facilities.
The project figures
Conveying capacity
1.200 tph
Installed power
800 kW (4 x 200)
The project gallery