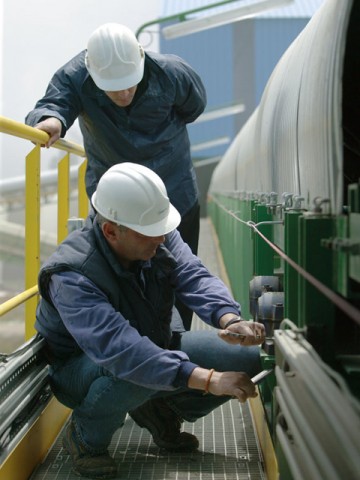 Our after sales service provide our customers with its extensive experience and know-how in maintenance service, improvement and revamping of equipment and complete facilities. 
Our high-qualified staff is able to provide the optimal solution to the client's requirements. For this purpose we have the suitable resources and the most advanced techniques through our specialized team in engineering development, erection and commissioning.
More than a service, we provide security, reliability and protection to our customer's assets. A well-managed, planned and executed maintenance is essential to optimize resources:
Extension of equipment operation life.
Reduction of down-times and their associated costs because of the non-production.
General OPEX reduction.
Improvement of equipment performance.
Fulfilment of targets set in the operation plans.
On demand, our customers can hire us to enjoy a wide range of services, shaping up the pattern that fits best their needs. These services focus on different areas, as follows:
Ad hoc maintenance and service works.
Inspection of TAIM WESER or third parties equipment.
NDT: Non Destructive Tests.
Reverse engineering.
Structural analysis.
Customized solutions.
Facilities revamping.
Specific purpose training.
SWP (Safe Working Period) and Exceptional Inspections, fulfilling the UNE 58144-5:2015 standard.
Spare parts
Besides supplying top quality commercial parts made by first class suppliers, we manufacture in-house in our hi-tech facilities a wide range of components, thus ensuring the best product to our customers.
We secure all components interchangeability, according to client's strictest integration requirements.
Our highly skilled and experienced team handles your needs worldwide, giving anytime the best support.