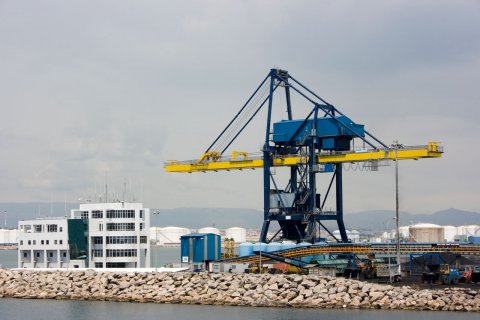 Nowadays, the concentrated availability of bulk materials has improved the connectivity among the countries in the world. The need to unload goods is increasing, so we provide our customers with tailor made solutions according to their needs, conditions and requirements.
Our scope of supply includes eco-hoppers, truck and train unloading systems, rail mounted grab ship-unloaders, ship to shore (STS) cranes, rail mounted gantry cranes (RMG) and rubber tyred gantry cranes (RTG) as well as combined cranes for the handling of containers and pallets. 
All our installations and equipment is designed attending to our customers' requirements and can be assembled in new port facilities as well as integrated into existing installations, with the aim of facilitate, improve and optimize the logistic process required by our customers.
Our wide-range of equipment assure a safe and efficient way to unload various materials types, grains, minerals, fertilizers, containers, pallets as well as bagged materials, both at port and dry terminals, taking into account the required tonnages and even vessel or trains sizes and types, improving the processes to reduce unloading times, always with respect to the environment.