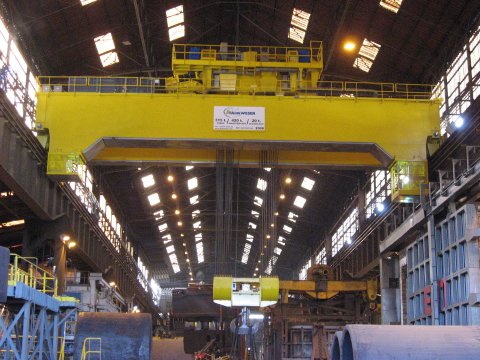 Modern industry today is unconceivable without the lifting of wide range loads, which has become, in some industrial sectors an essential part of the production process.
We have contributed to the modernisation of key sectors and towards the development in many countries where the company have been supplying its projects and installations for more than 100 years.
We design, manufacture and supply bridge /EOT cranes, semi-gantry and gantry cranes of tailor made design and very robust construction for heavy duty activities, to achieve high performance capacities in a wide range of industries and applications.
We develop our products paying close attention to the specific requirements and needs of each customer, and always providing solutions based on the principles of safety, high performance, precision of movement, low maintenance and operation costs and maximum availability.
All essential processes of cranes design and fabrication are performed and supervised in our installations and additionally all the cranes are assembled and tested I its factory, without load or even with it, if required by the customer. This process leads us to the achievement of a high quality final product and an absolute assurance that no major unforeseen problems happen during installation and commissioning on site.
Our principles are also reflected in a new concept recently incorporated into the business, namely the automation of cranes using the latest technology such as Augmented Reality (AR), drones inspection, artificial vision, GPS positioning and Wi-Fi connection.