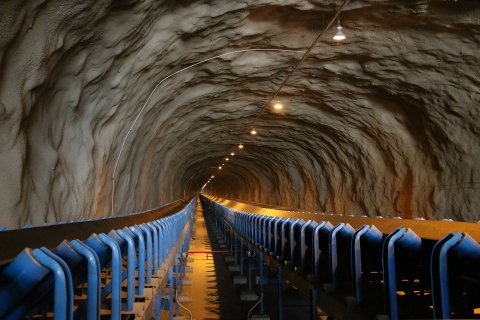 Conveying process plays a major role in the sequence of materials handling. The properties of the material itself and the type of installations to be supplied, require a great knowledge and experience in the design of conveying systems. 
Our extensive experience in the calculation, design and manufacture of a large number of installations, for which are renowned worldwide, enable us to always offer the most safety and efficient solution for a wide variety of materials.
Our bulk material conveying systems can be found on the five continents, in refineries, power plants, industrial areas, stockyards, mines, ports and even the dessert, with lengths from a few meters up to tens of kilometres, fitted with the latest technology, control, braking and regeneration systems, and with capacities of up to tens of thousands of tonnes per hour.
We supply from individual specialized equipment to complete turnkey installations, which make up all of the main elements and auxiliary equipment, providing our clients with a customized and tailor made solution to meet all their needs.
We work with the latest technology and through our skilled engineering department, our specialized workshops equipped with state of the art machinery and our erection, commissioning and after sales teams we are able to provide our clients the most advanced and, at the same time, the most competitive solution