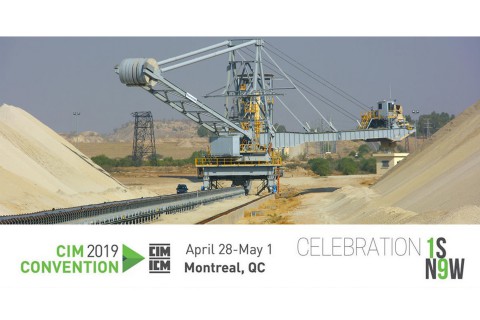 TAIM WESER will attend CIM Expo & Convention 2019, from April 28-30 in Montreal, Quebec, an event that brings together the latest and greatest in the mining and related industry.
CIM Expo & Convention is the Canada's premier mining trade show. For this 2019 edition, approximately 450 companies will showcase the latest equipment, tools, technology, services and products for the mining industry.
TAIM WESER will be located at booth 2610, where the company will highlight its worldwide and 120 years old expertise in the supply of durable mining equipment.
TAIM WESER's tailor made mining solutions includes truck/dumper unloading systems, all type of stockyard machinery as reclaimers, fixed or travelling stackers, combined bucket-wheel stacker reclaimers, circular and longitudinal stockyards, either open or covered, kidney stackers, and train and truck loading out stations as well as conveying systems and shiploaders.
This wide range of products enables TAIM WESER to provide customized solutions according to customers requirements, depending on the type of material to be handled, type of activity to be done and environmental conditions of the site where the mining project is located.
For more details about the event, you can visit the organizer's site:  https://convention.cim.org/