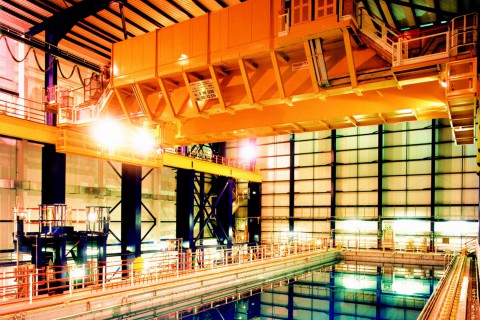 TAIM WESER has been awarded with a contract for the supply of up to 24 out cell high integrity (nuclear) cranes along 10 years for Europe's most complex nuclear site, Sellafield, located in Cumbria (UK). Out cell /nuclear lift cranes are overhead cranes designed for lifting and moving large nuclear packages, where stability and robustness is critical to plant operations.
Using category management principles, Sellafield Ltd has devised cranes for the major requirements on site with nine possible variations, accelerating progress to ensure on site security – its number one priority.
This way, the chosen option delivers a huge cost saving and is set to speed up progress on the Nuclear Decommissioning Authority's 100 year programme to clean up the site.
Sellafield Ltd is a wholly owned subsidiary of the Nuclear Decommissioning Authority (NDA), the UK Government Organisation equivalent to ENRESA in Spain.
TAIM WESER, amongst other activities, is a worldwide leading supplier of special EOT and gantry cranes for the handling of low and intermediate active nuclear waste as well as nuclear fuel; its leadership position is confirmed by the awarding this order.
TAIM WESER's track record in the nuclear sector started as far as in 1965, when the company supplied cranes to Jose Cabrera's Nuclear Power Plant, first nuclear generation facility installed in Spain. Afterwards, TAIM WESER has continued supplying further nuclear equipment worldwide, as i.e. in Belgium, Japan, UK, Netherlands, Argentina, and Ukraine, where TAIM WESER is present in large-scale projects as the Technological Building (TEC) of the Chernobyl New Safe Confinement Project. TAIM WESER has also supplied high precision cranes to the most prestigious research labs in the world, CERN and CELS, cooperating to the fundamental research in our world principles.
TAIM WESER wants to thank Sellafield Ltd the trust that has put in us, as a key milestone along a fruitful development of a long-term relationship.