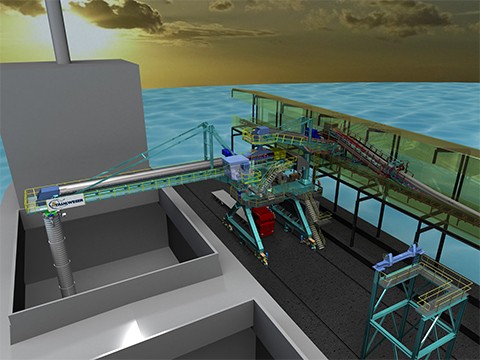 TAIM WESER has been awarded by SAMMI GROUP, Italy – nominated buyer of KT - Kinetics Technology - for the supply of a new petrol coke shiploader package to be installed at Delayed Coking Unit (DCU) of the INA Rijeka Refinery, in Croatia.
According to KT - Kinetics Technology press release, the company was awarded an EPC contract by INA-Industrija Nafte, d.d. (INA) for a new Delayed Coking Complex for the Rijeka Refinery in Croatia, in the frame of the Rijeka Refinery Upgrade Project. 
SAMMI GROUP, the responsible for the complete Coke handling system to KT-Kinetics Technology in this project, has selected TAIM WESER to provide the engineering, manufacture, supply and supervision of a rail mounted shiploader with a capacity of 550 TPH and 28,5 m boom length. The equipment will be provided with a luffing/slewing boom mechanism and a link (intermediate) belt conveyor, connected to one tripper car included in the scope running along the jetty conveyor.
The shiploader will carry out petroleum coke loading operations into vessels within a range of Handysize 5.000 DWT and Handymax 25.000 DW T and, in order to reduce the dust emissions during operation, it will be equipped with a telescopic chute, cascade type, at boom tip end.
TAIM WESER wants to thank SAMMI for the trust and confidence placed in it with this order, which helps consolidate TAIM WESER's presence in the European Oil & Gas industry.