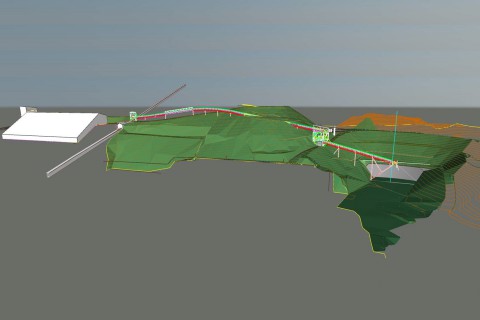 TAIM WESER has been selected by ICL Iberia Suria & Sallent for the design, supply, assembly and commissioning of a new potash conveying system.
ICL Iberia Suria & Sallent (Iberpotash) has once again relied on TAIM WESER for the supply of a new belt conveying system. The new project will be located at the Suria mine, in Barcelona, ​​and will consist of a downhill conveyor for potash of 230 meters length and 1.200 tph of capacity, two transfer towers as well as all the related electrical equipment.
The new conveying system will be located on the outside of the ramp that ICL Iberia Suria & Sallent is building in Suria and for which in recent years TAIM WESER has supplied and continues supplying several drive heads, transfer stuffs and loop take up systems.
The start of operation of the new transport system is scheduled for the summer of 2019.
TAIM WESER wants to thank ICL Iberia Suria & Sallent for the reliance placed again in our company to carry out a new tailor made project for potash handling, which reinforces the close relationship between both companies for more than 40 years.