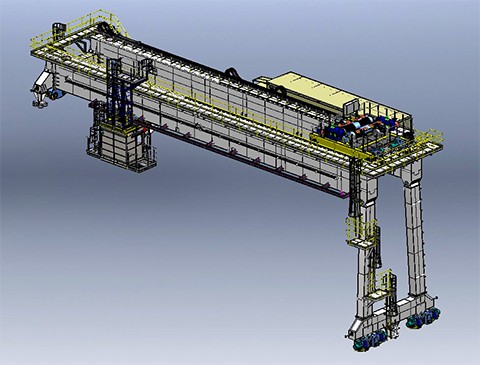 TAIM WESER has been awarded by KT - Kinetics Technology, part of Maire Tecnimont Group, the supply of a new coke handling bucket Crane to be installed at the INA Rijeka Refinery, located in Croatia.
On December 2019 KT - Kinetics Technology signed a contract with INA - Industrija nafte, d.d.in Zagreb, Croatia to supply the Rijeka Refinery Upgrade Project, consisting of the execution of engineering, procurement of all equipment and construction of a new Delayed Coking Unit (DCU).
The project involves the latest solutions for coke handling and storage, so KT - Kinetics Technology has relied on the expertise and wide experience of TAIM WESER and has selected the Spanish company for the supply of a new EOT, duty cycle, semi-gantry crane. The equipment, with a loading capacity of 18 ton and 32 m span, will handle petroleum coke in the new DCU of the refinery.
TAIM WESER will provide the engineering, manufacture, supply and supervision services of the coking crane, which will be designed to operate 24/7 in challenging environments.
With this new project, first supply of the company in Croatia, TAIM WESER keeps up its international expansion in the Oil & Gas industry.
TAIM WESER would like to thank KT- Kinetics Technology for the trust and confidence placed in the company, as a key milestone in the successful development of a long-term relationship.
About TAIM WESER
TAIM WESER is a worldwide company with over 120 years of experience in more than 65 countries, with state of the art in-house design, production and maintenance facilities, specialized in providing customized integrated high-tech solutions for bulk solids handling and special lifting projects, meeting current challenges with the technologies of tomorrow in the global mining, ports and metallurgical industries as well as oil & gas, nuclear and fertilizers sectors.
TAIM WESER is committed to innovation and technology, human resources, total quality and competitiveness, always within a framework of sustainability and respect to the environment, which turned the company into a reference present on the main global markets.