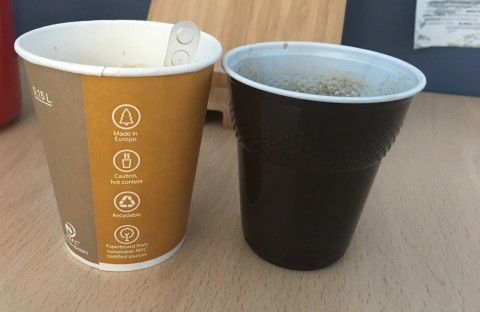 At TAIM WESER we are fully committed to respect and protect our natural surroundings, so we continually carry out actions contributing towards improving natural surroundings.
One of the issues we are most concerned about is the excessive use and unsustainable elimination of plastic products, which is causing so much damage in our ecosystems.
That is why, according to the indications of the UN and its global commitment to the significant reduction of single-use plastic products by 2030, in collaboration with our vending items supplier, we have removed the plastic cups from our vending machines and replaced them with paper cups.
This way, we reduce the consumption and generation of plastic waste and, in addition, we generate a recyclable "paper cup" waste that we deposit along with the rest of the paper and cardboard generated in our facilities.
In addition to this substitution, we also keep on encouraging all machine users to select the "no glass" option, through which we avoid the generation of waste by using a personal glass or cup.
Moreover, the next step we are working on is the replacement of plastic teaspoons by some recyclable or biodegradable ones that are affordable and environmentally friendly.