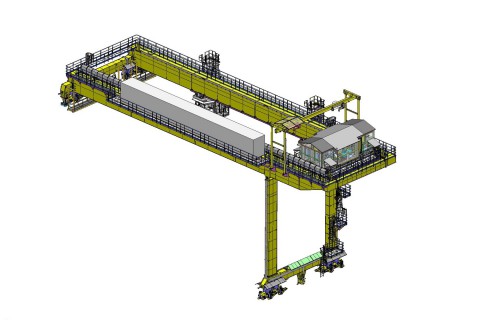 TAIM WESER is delighted to be one of the actors involved in the large-scale modernisation of Russian's refining assets, contributing to the Delayed Coking Unit (DCU) modernisation project at a refinery located in Western Siberia.
This new DCU modernisation project will increase plant's efficiency and reduce environmental impacts, while, at the same time, improving processing capacities, conversion rates, energy efficiency, and production qualities at the site.
On top of that, and once the modernisation is completed, the facility will become Russia's first production facility for needle coke, a valuable highly structured carboniferous raw material used in the metallurgical, nuclear, chemical and space industries.
TAIM WESER's contribution for the project will include the design, manufacture and supply of a tailor made coke bucket semi-gantry crane, with a loading capacity of 31 tons under wire ropes, whose function will be to grab and transfer the petroleum coke from the discharge pit where it is produced to the hopper feeding the belt conveyors system.
The crane will be designed to work in a harsh and highly aggressive environment, explosive atmosphere (according to ATEX Directives), with abrasive dust and adverse weather conditions, where temperature ranges from -50ºC to +40ºC. These are major reasons why the equipment from TAIM WESER has been finally preferred.
The equipment will feature total availability in order to not interrupt the plant's output capacity – consequently, given its importance within the process, most of its major components will be designed with redundant backups in order to avoid the risk of stoppage during production stages.
This key project reinforces the TAIM WESER's presence in the Russian Oil & Gas market, after putting in operation last year a new and complete coke lifting and handling equipment system (from pit to train loading station) for the delayed coking unit (DCU) in another Refinery located also in Western Siberia region.