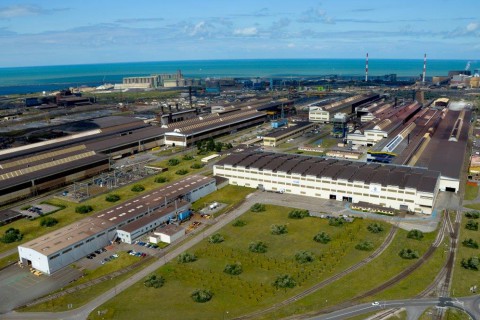 DILLINGER France has entrusted TAIM WESER with the design, manufacture and assembly of a new bridge crane to be located in Hall C of its Dunkerque plant, in France.
The German steel group DILLINGER is the European leader in the production of steel plates of great thickness and width. The company produces more than 2 million tons yearly of high quality steel plates, a third of them produced in its Dunkerque factory. Main markets of DILLINGER are the metallurgical industry, mechanical engineering, construction, the offshore industry (such as wind turbines and offshore platforms) and pipes for the transport of gas and petroleum.
The DILLINGER Group counts with a staff of 8,000 employees, of which about 600 belong to DILLINGER France.
The new bridge crane supplied by TAIM WESER will handle hot plates at 600ºC and the conditions of operation and use will be 24 hours a day, 7 days a week, throughout the year.
TAIM WESER supplies lifting solutions that are characterized by excellent performance and high reliability.
The type of work to be performed, the conditions of operation and use as well as the tailor made design of the new bridge crane, fit perfectly to TAIM WESER's know-how in the intensive steel industry.
This new contract reinforces the presence of TAIM WESER in the steel industry and allows the Spanish company to return to Dunkerque. In fact, more than 10 years ago, TAIM WESER supplied a complete turnkey installation consisting of a belt conveyor system in the port of Dunkerque, for the transport and handling of bulks within the ArcelorMittal industrial complex.