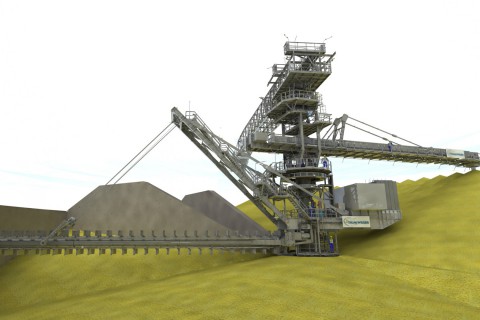 FDH JV, a Joint Venture composed by Fluor, Daewoo Engineering & Construction and Hyundai Heavy Industries, has selected TAIM WESER for the supply of a solid sulphur Handling and Storage system for the Al-Zour Refinery Project (ZOR), to be commissioned by the Kuwait National Petroleum Company.
The project consists of the design, manufacture and supply of a Belt Conveying System and Storage system in two circular stockpiles. The conveying system also includes the related firefighting system, dedusting system and auxiliary equipment and the Circular Storage system includes two aluminum circular storage domes, equipped each with a slewing/luffing boom stacker and a scraper reclaimer machine, cantilever type and supported on a central column, around which it rotates. The equipment is contained inside a circular covered building.
This project, along with the one recently awarded by HSSJV, allows Taim Weser to achieve the development of the full sulphur handling facility for the Al-Zour refinery, from the outflow of the granulators up to the load by ship through the storage of material via belt conveyors.
TAIM WESER thanks FDH JV for his reliance upon us in this project; we are proud to be an active player in contributing to the development of the biggest refinery in Middle East.
Winning this order strengthens TAIM WESER's position to obtain additional orders in Sulphur Handling Equipment, and in general in Oil & Gas sector, in the whole region.