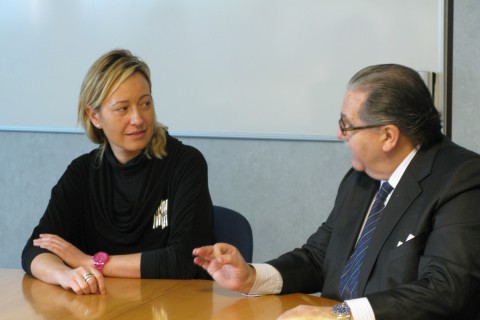 The Minister of Economy, Industry and Employment of the Government of Aragon, Marta Gastón, accompanied by the managing director of the IAF, Ramón Tejedor, visited the headquarters of TAIM WESER in the polygon of La Cartuja (Zaragoza).
Upon their arrival, both have been received by TAIM WESER's President, Mr. Manuel Teruel and Managing Director, Mr. Alfredo Sánchez, who have guided the authorities through a corporate presentation of the company and a visit to the production plant and the offices, where almost 300 people are currently working.
During the visit, the Director and the Manager of the IAF had the opportunity to see in detail the production process of the company, which includes engineering, manufacturing, assembly and commissioning, as well as the after-sales service of the facilities, which are supplied to each client.
The company, specialized in the supply of tailor made first-class technological solutions, specifically bridge and gantry cranes, facilities for handling bulk materials and large-scale waste treatment plants all over the world, is currently developing several projects in Mexico, United Kingdom and Kuwait.
Specifically, the projects consisted of the supply of bridge cranes for petroleum coke handling in a Pemex refinery in Mexico, a package of nuclear waste treatment cranes in Sellafield, United Kingdom; and a complete sulphur handling and export facility at a KNPC refinery in Kuwait. Brazil, Russia, Iran or Peru are other countries where TAIM WESER has recently carried out relevant projects.